Pilot's jet fighter business enjoys a boom
The sound tests may lead to commercial spacecraft flights at Cape Canaveral.
By CURTIS KRUEGER
Published April 18, 2007
---
| | |
| --- | --- |
| | |
| | [AP photo] |
Pinellas County businessman Rick Svetkoff took two rides Tuesday in one of his company vehicles -- at nearly 1,000 mph, and more than 7 miles high.
He climbed into a fighter jet, zoomed off a Kennedy Space Center runway and flew a test pattern. The sonic booms he created will help NASA decide whether to allow commercial spacecraft to launch from Cape Canaveral.
Svetkoff, who lives in Tarpon Springs with his wife and two sons, has carved himself an unusual niche. His company owns four F-104 Starfighter jets, a type of fighter formerly used by the U.S. Air Force and others. He and other pilots fly them around the country, mostly at air shows.
"I love it, it's the best job you can get," he said, comparing his jets to Ferraris. "Who wouldn't want to be a race driver or fighter pilot? It's a great deal."
Svetkoff landed at the space center Monday in a Starfighter that normally is housed at St. Petersburg-Clearwater International Airport.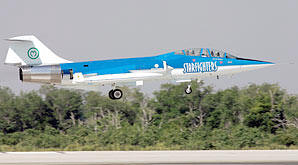 [AP photo]
---
Like a lot of pilots, Svetkoff, 53, has loved airplanes all his life. As a boy growing up in Clarkston, Mich., he dreamed of becoming a pilot. With money he earned bagging groceries, he took flying lessons and got a pilot's license at age 17.
After college, Svetkoff joined the U.S. Navy in 1978 and flew A-4 fighter jets. Thanks to his Russian surname, he was given the call sign "Comrade." Svetkoff left the Navy in 1984 and began a career as a Continental Airlines pilot.
But within a few years, "I was kind of anxious to get back into fighters again."
So in 1995, he bought his own fighter jet for about $250,000, and poured more than $1-million more into it to get make it airworthy. This F-104 had been used by the Royal Canadian Air Force and the Royal Norwegian Air Force before Svetkoff was able to buy it privately from a military contractor.
"It's a high-performance, very sleek, exhilarating airplane," Svetkoff said, contending that it "still out-climbs and out-accelerates the F-16."
In 1996, Svetkoff began flying at air shows. After retiring from the airline about a year ago, he devotes himself full time to Starfighters. He has nine paid employees, and they travel the air-show circuit. Sponsorships help pay the bills.
But Tuesday's flights were not about wowing the crowd below. Quite the opposite.
A handful of private companies are developing ways to take "space tourists" on journeys away from Earth. NASA is deciding whether these spacecraft could take off from Kennedy, which is better known for launching America's Mercury, Gemini, Apollo and space shuttle flights.
Most of the new vehicles would likely take off like an airplane, or be carried into the altitude attached to an airplane, said Jim Ball, spaceport development manager at Kennedy.
NASA believes that when the spacecraft go supersonic, about 12 miles east of the shoreline, they're not likely to make sonic booms that would bother residents of the Space Coast, Ball said.
Svetkoff's flight was designed to evaluate whether that's true. Like the anticipated commercial astronauts of the future, he took off from the Shuttle Landing Facility, the runway that was designed for landing, but not launching, space shuttles.
He flew 40,000 feet, completed a loop pattern and plunged back down to the space center on a steep descent.
He also got to meet several astronauts and NASA officials.
"I believe that's probably one of the highlights of my life," he said afterward.
[Last modified April 17, 2007, 22:35:34]